Chile
Jump to navigation
Jump to search
Chile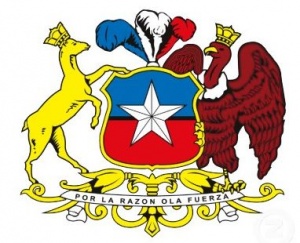 National symbols
Administrative division
Chile is divided into 15 regions, which are further divided into 54 provinces and 346 municipalities. Most regions, a few of the provinces and about 50% of the municipalitie suse arms.
Heraldry
Coats of arms of municipalities
Not all arms have been added yet. More arms will be added shortly !

Be aware : municipalities starting with a prefix El, La, Las and Los are listed under the second name !.
Select by first letter:
A | B | C | D | E | F | G | H | I | J | L | M | N | O | P | Q | R | S | T | U | V | X | Y | Z |
Heraldic collector's items