Micah Judd Roberts
Jump to navigation
Jump to search
MICAH JUDD ROBERTS
Registration no.: 011/2017
Country of origin : United States
Place of origin : -
Granted : No
Granted/officially recorded by : -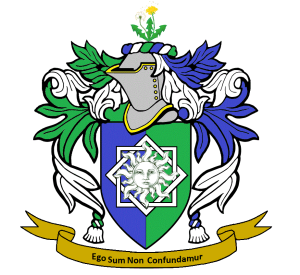 Official English blazon
Arms: Per pale Azure and Vert, two interlocking squares forming an eight pointed star surmounted by a sun in splendor Argent.
Crest: On a wreath Azure, Argent, and Vert, a dandelion with three leaves vert, a puff ball Argent and a flower Or.
Mantling Dexter Vert, Sinister Azure, doubled Argent
Motto: Ego sum non confundamur (I am unashamed)
Badge:An eight pointed star per pale Azure and Vert, a dandelion seed Argent
Other language blazon
Origin/meaning
There are many different meanings for these Arms. I will start with my name. Micah meaning "Who is like God?" God is in the heavens (blue) my middle name Judd meaning "Praised", "Flowing down", or "Land" (green) then my last name Roberts "Bright renown" or glory (Sun). The two interlocking squares forming a star symbolize two becoming one but only in a pure (white) or "Square" way, as in being square with someone. This represents my wife and I paired with the Godhead (one side of the square is the individual and the other three represent the Godhead) those two squares are then woven together symbolize the marriage of my wife and I. The two interlocking squares also represents having Christ in my life. The squares are also a form of the Seal of Melchizedek. The tincture of the squares and sun stands for all of the attributes of Christ that I am striving to become like. The tinctures of the shield can also symbolize other things like, feeling "blue" vs the hope and joy coming from life (green) and my wife and I (the squares) as we go though both times with glory (sun). Crest The Dandelion represents my family. The puff and flower are my wife and I with our children represented as leafs. The number of leafs symbolizes the Godhead tying back into the arms. The Dandelion flower also represent the sun going back to my last name. Dandelions survive through challenges and difficulties showing the ability to not only do hard things but to thrive in them and in the end still be able to have hope, joy, and make a wish. I hope to be able to do this in life. The dandelions ability to grow also represents my life long desire for knowledge. The dandelions ability to nourish symbolizes healing to others and to myself. They are also one of the first signs of good weather bringing hope, fun, joy, and at the same time meaning there is work to be done. Motto "I am unashamed" comes from The Fellowship of the Unashamed. Badge I took elements of the Arms and Crest to make the badge.
Registration details
---
Follow us on



---


Contact us
Support the site:



Click on the image to see how to support the site !
---