Difference between revisions of "Category:Universities"
Jump to navigation
Jump to search
---
Latest revision as of 17:04, 30 July 2018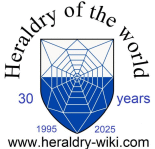 HERALDRY OF THE WORLD : The main resource for civic heraldry since 1996
This section contains information on the use of coats of arms by any institute of post-secondary school level; training colleges, polytechnics, university colleges, universities etc.
Pages in category "Universities"
The following 478 pages are in this category, out of 478 total.
Media in category "Universities"
This category contains only the following file.