Havant


Heraldry of the World

British heraldry portal
Civic heraldry of the United Kingdom

---
Overseas possessions
---
Total pages in the British section : 3,057
HAVANT
Additions : 1974 Havant and Waterloo UDC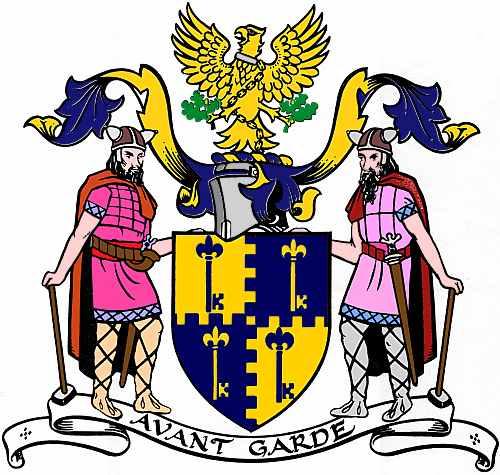 Official blazon
Origin/meaning
The shield has embattled quarterings of gold and blue on which are displayed four keys with their terminal ends being in the design of a fleur de lys. The embattled quartering is an allusion to the old castle at Warblington. The keys have been taken from the Arms of the monks of Jumieges. History records that in 1067 William the Conqueror vested in the Abbey of Jumieges the island called Hayling with all its belongings, and it seemed appropriate therefore that four keys should be representative of Hayling Island. The fleur de lys and the colours of the quartered shield were prominent on the Arms of Montgomeri.
The Domesday Book records that the manors of Bourne (now called Westbourne) and Warblington were held by Roger de Monte Gomeri and so the fleur de lys with the embattled quarterings and the colours of or and azure together represent the Manor of Warblington including Emsworth. Thus it will be seen that the devices on the shield represent Hayling Island and Warblington.
The supporters are represented by two Saxon warriors. The name of Havant, or Havehunt as it was called in the Middle Ages, comes from two Saxon words, Haman Funta, thought to mean the spring of Hama, which presumably refers to the artesian springs in Homewell. Research reveals that Hama was a legendary hero of the Goths referred to in the Epic of Beowolf. The hammers held in the hands of the supporters are a punning allusion to the name Hama to identify further the fact that the supporters represent Havant.
The crest represents Waterlooville and Leigh Park. It is recorded that during the Battle of Waterloo a certain Colonel Alexander Clark-Kennedy, with his own hand, captured a Standard bearing the eagle of the 105th French Regiment. For this heroic action he was permitted to include in his own armorial bearings a crest depicting a demi-dragon holding the same standard. It is this French eagle taken from this standard and featured, collared and chained and allusive to the Battle of Waterloo, which forms the crest. The eagle is shown grasping two sprigs of oak which refer to the parkland of Leigh Park, now a thriving community.
The motto for Havant, "Avant Garde", is French for vanguard, meaning those who lead the way or anticipate progress. The punning allusion to the name of the borough is intentional. The pun being very popular in the design and creation of heraldic achievements.
Literature : Image and information provided by Laurence Jones (laurencejones@eircom.net)