Royal 22e Regiment, Canadian Army
ROYAL 22E REGIMENT, CANADIAN ARMY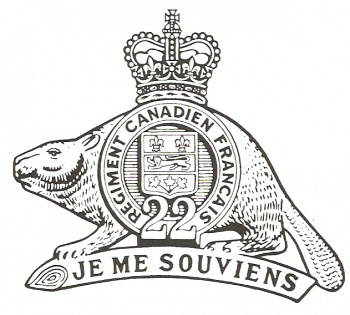 Official blazon
A beaver, standing on a log inscribed JE ME SOUVIENS; superimposed on the side of the beaver an annulus inscribed RÉGIMENT CANADIEN FRANÇAIS; within the annulus a shield bearing the arms ofthe Province of Quebec (or, on a fesse gules between 2 fleur-de-lys azure in chief and 3 conjoined maple leaves vert in base, a lion passant guardant of the field). Superimposed on the annulus below the shield the Arabic numerals 22; the whole surmonted by the crown. / Un castor est bebout sur un trone d'arbre protant la divise "JE ME SOUVIENS"; à côté du castor, un anneau indique RÉGIMENT CANADIEN FRANÇAIS; à l'intérieur de l'anneau apperait un écusson aus armoiries de la province de Québec (d'or à la fasce de gueules chargé d'un leopard d'or accompagné en chef de deux fleurs-de-lis d'azur et en pointe d'une tige d'érable feuillée de trois pièces). Le chiffre arabe 22 est superposé sur l'anneau au-dessous de l'écusson la couronne domine l'ensemble.
Origin/meaning
This is the Regular Frenchspeaking Infantry Regiment of the Canadian Army. The Motto which is also that of the Province of Québec translates as "I remember".
Literature: Sent by the Canadian Embassy in Oslo.