Solo Sušice (arms and churches)
Solo Sušice matchbox labels : Arms and churches of Czechoslovak towns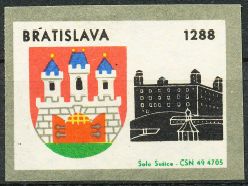 Series information :
Date of issue : ?
Number of labels : ? (>50)
Image variants : none known
Company
These series were issued by the Czechoslovak matchbox company Solo, in their Sušice factory. I have no idea when they were issued. Any information is welcome !
Labels issued
These labels show the arms and churches of Czechoslovak towns.
Some examples are shown below. For all images see here.