Brioschi
Jump to navigation
Jump to search
Stemmi delle città d'Italia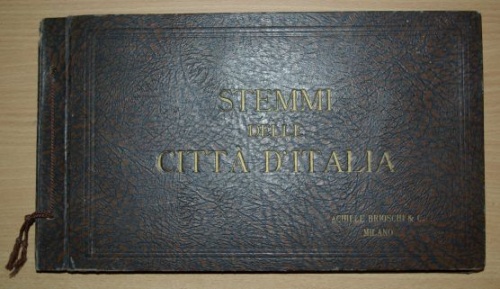 Album information :
Issued by : Achille Brioschi, Milano, Italy
Date of issue : 1930s
Number of stamps/cards : 500, issued in 5 series
Image variants : The first 200 cards were issued with a large or a small image
Background
This album was issued in the 1930s for the small cards that could be obtained by buying the antacid stomach powder from Achille Brioschi. The powder still exists in Italy and the US.
The cards are 50x68 mm and fitted in special frams in the album. The cards could be placed at will in the album, there are no texts at all in the album, just the pages with the frames for the images. The album is made for 300 images, so for the whole collection two albums were needed.
The reverse of the cards shows some background information on the arms and the city.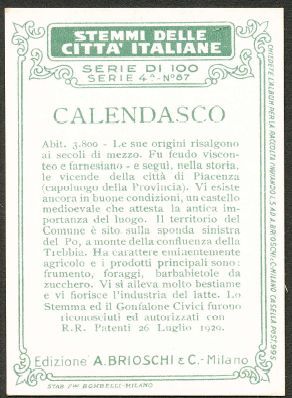 In approx. 1940 the company issued a book with all images and the texts of the reverse of the cards. All images seem to be the same as on the cards.
Advertising for the albums: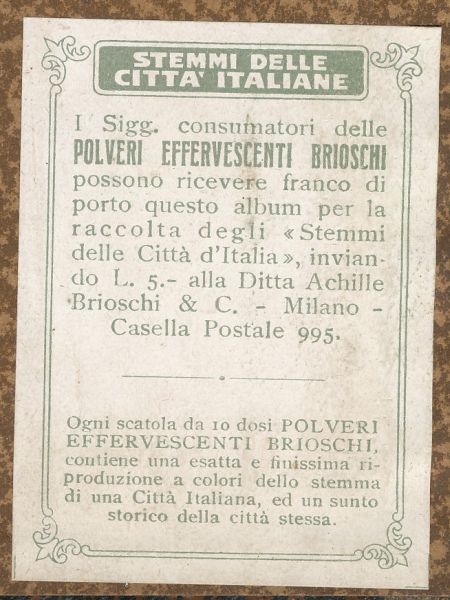 Overview of cards