Escudos, Uniformes y Edificios Nacionales
Jump to navigation
Jump to search
Escudos, Uniformes y Edificios Nacionales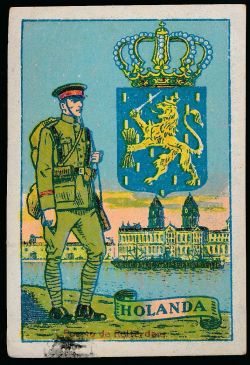 Series information :
Date of issue : 1920s ? (approx.)
Number of cards : 45
Image variants : ?
Company
These cards were probably issued in the early 1920s and could be overprinted on the reverse with advertising for small local companies, see examples on the reverse below. I have no idea who actually issued them.
Series
The images show the arms of the country, a soldier and some prominent building. The cards are numbered on the back and describe facts about the country.
Front
Reverse