Utrecht (provincie)
Jump to navigation
Jump to search

PROVINCIE UTRECHT
I: 14 april 1858
" Een gevierendeeld schild; het eerste en vierde deel van keel met een kruis van zilver; het tweede en derde deel van goud met eenen leeuw van keel, getongd en geklaauwd van lazuur; met een middenschild tranche van zilver en keel. Het schild gedekt met eene kroon van vijf fleurons en ter wederzijde gehouden door eenen leeuw leoparde van goud. "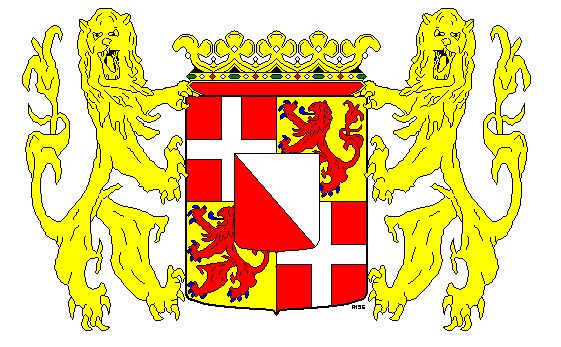 Oorsprong/verklaring
Het wapen van Utrecht is een combinatie van de wapens van het Sticht Utrecht (I en IV), Holland en als hartschild de stad Utrecht.
Het kruis als wapen voor het Sticht Utrecht komt voor het eerst voor in 1291 op het zegel van bisschop Jan van Sierck. De kleuren zijn een wit kruis op een rood veld. Dit wapen is altijd het wapen van het bisdom gebleven. De bisschoppen zegelden verder met hun persoonlijke wapens. Jan van Arkel (1342-1364) was de eerste die zijn persoonlijke wapen als hartschild op het bisschoppelijke wapen afbeeldde. In de 15e eeuw begint David van Bourgondië met het gebruik het bisschoppelijke wapen te kwartileren met het persoonlijke wapen. Latere bisschoppen voerden hun persoonlijke wapen weer als hartschild.
In 1528 wordt voor de wereldse provincie Utrecht een nieuw wapen ontworpen. Aangezien de macht werd uitgeoefend door Karel V als graaf van Holland, wordt het wapen van het Sticht opgenomen als borstschild op de Hollandse leeuw. Dit blijft in gebruik tot 1578.
Na 1578 komen er diverse wapens in zwang, met als de drie belangrijkste elementen, het Stichtse kruis, de Hollandse leeuw en het stadswapen. Soms is het een combinatie van twee, soms van drie wapens. In 1582 wordt voor het eerst de huidige combinatie toegepast. In 1580 waren Holland en het Sticht bijvoorbeeld nog omgedraaid. In 1584 verdween het hartschild echter weer. Pas in 1705 werd besloten het hartschild met het stadswapen weer op te nemen. In de loop van de 18e eeuw bleven de beide varianten echter in gebruik.
Afbeeldingen
English
"Quarterly of gules and or, I and IV a cross argent, II and III a lion rampant gules, armed and langued azure; over all an inescutcheon, per bend argent and gules. The shield is crested by a coronet of five leaves or. Supporters: two lions rampant guardant or."
The arms of Utrecht are a combination of the arms of the Archdiocese (Sticht) of Utrecht (I and IV), Holland (II and III) and the city of Utrecht. The arms of the Sticht are used since 1291. The bishops generally quartered their own arms with the arms of the Sticht. In 1528 Charles V, as count of Holland, was appointed as overlord. He combined the arms of Holland and Sticht, by placing the latter on the lion of Holland. Between 1578 and 1584 several combinations of Sticht, Holland and Utrecht are used. The present arms appear in 1582-84. The arms of the city disappear between 1584-1705. The arms haven't changed since then.Voorbeelden van het gebruik van het wapen in architectuur etc :

Literatuur: De Vries, 1995