Diocese of Salisbury
Jump to navigation
Jump to search
DIOCESE OF SALISBURY
Country : United Kingdom
Denomination : Anglican
Established : 705 as Diocese of Sherborne, translated to Ramsbury 909, and to Salisbury 1078.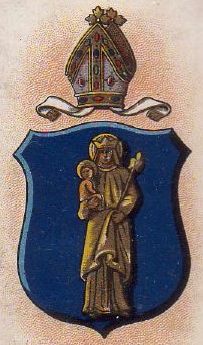 Official blazon
Azure, Our Lady crowned, holding in her dexter arm the Infant Jesus, in her sinister hand a sceptre Or, round both heads circles of glory of the last.
Origin/meaning
The arms were recorded at the College of Arms.
In the year 706 the West Saxon bishopric founded by St. Birinus was divided, a new bishopric of Sherborne being formed in the western portion. This consisted of the counties of Dorset, Somerset, parts of Wiltshire and also Devon and Cornwall, the two latter being added during the reign of Alfred. The creation of the sees of Wells and Crediton in 909 limited Sherborne to Dorset. Another new see was founded at Ramsbury, the counties of Berkshire and Wiltshire being taken from Winchester as its territory. In 1058 Ramsbury and Sherborne were united under Herman, who in 1075 moved the see to Old Sarum in obedience to the decree of the Council of London. The see was subsequently removed by Richard le Poor under sanction of a Bull of Pope Honorius III from Old Sarum to New Sarum, or Salisbury, in the valley of the Avon.
In 1496 Pope Alexander VI added the Channel Islands to the diocese from that of Coutances. In 1499 there was a second transfer, this time to Winchester. In 1542 Dorset was given to the newly founded diocese of Bristol, but by Order in Council October 5, 1836 it was restored to Salisbury with the parish of Thorncomb in the Diocese of Exeter.
The dedication of the Cathedral is to the Blessed Virgin Mary and this is echoed in the arms. Her figure with the Child appears full length but seated on the seal of Richard Mitford (1395-1407); they also appear, half-length, on the small counterseals of Robert Bingham (1229-46) and Robert Wickhampton (1274-84). Seated they form part of the main device of the seals of Robert Hallam (1375-1407) and Richard Beauchamp; and half-length occur in the upper portion of that of Lorenzo, Cardinal Campeggio (1525-34). The earliest seal with the full length figure of the Virgin on a shield appears to be that of Benjamin Hoadley (1723-34).
Literature : Image from Wills's Arms of the Bishopric. Briggs, 1963.