Zug
ZUG (City and Canton)
| | |
| --- | --- |
| Zug city | Zug canton |
Origin/meaning
The arms of the City and Canton of Zug are identical. The only difference is the use of the crown by the city.
The oldest known seals of the city of Zug date from the last quarter of the 13th century and all show the patron saint of the city, St. Michael.
The oldest seal in which the arms with the bar are used for the first time dates from around 1319 (see below).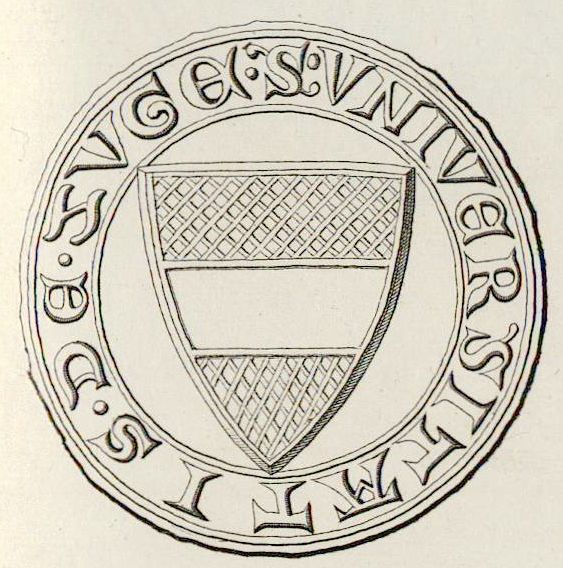 The oldest seal of Zug
All later seals and arms always show the single bar.
The arms are most likely derived from the arms of Austria, as the city at the time was an Austrian possession. When the colours were changed is not known, it may be that the colours were never the Austrian colours (red-silver-red), but the silver and blue from the beginning.
The colours are known as such since the 15th century, but the second seal already hangs on a blue and silver ribbon on a document from 1370. On different occasions the arms of Zug are shown with supporters, most often lions or St. Michael, but also knights, savages or angels. As there was no consistency in the type of supporters, it is not likely that these were officially used, they do not appear in any of the seals either.
Only in the seal of the Canton from 1947 the arms are shown with two lions and St. Michael as supporters.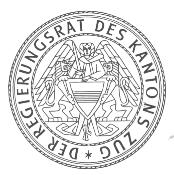 The cantonal seal from 1947
Literature : Mühlmann, L. : Wappen und Fahnen der Schweiz, Bühler Verlag, Lengnau, 1977 and 1997; Iten and Zumbach, Wappenbuch des Kantons Zug, 1974.