Limburg (provincie)
Jump to navigation
Jump to search

LIMBURG
I: 27 december 1886 " Een gevierendeeld schild; het eerste kwartier in zilver een van goud gekroonde en geklauwde leeuw van keel met dubbelen staart (Valkenburg); het tweede kwartier in goud een van keel getongde en geklauwde ongekroonde leeuw van sabel (Gulik); het derde kwartier in goud drie hoorns van keel, geplaatst twee en een, en voorzien van banden van zilver (Horn); het vierde kwartier in azuur een leeuw van goud met dubbelen staart, getongd van keel, gekroond en geklauwd van goud (Gelderland voor 1371); over alles heen een hartschild van zilver beladen met een van goud gekroonden en geklauwden leeuw van keel met dubbelen staart (Limburg). Het schild gedekt met den Limburschen hertogelijken hoed of kroon. "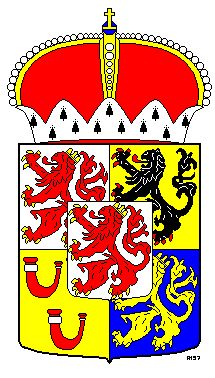 Oorsprong/verklaring
Het wapen van Limburg is opgebouwd uit de wapens van de, al in de beschrijving genoemde, gebieden Valkenburg, Gulik, Horn, Gelderland en Limburg.
De geschiedenis van het huidige Limburg is erg complex. Het oorspronkelijke Limburg omvatte ook het huidige Belgisch Limburg, maar niet het gebied ten noorden van Venlo (Gelders gebied) of het gebied rond Weert (Graafschap Horn). Ook in het zuidelijker deel waren veel delen niet direct onderdeel van Limburg, maar vielen onder Gulik of Valkenburg.
De Limburgse leeuw is al bekend van een zegel van graaf Hendrik III van Limburg uit 1208. In 1221 kreeg de leeuw twee staarten, waarschijnlijk omdat de toenmalige graaf ook regent was in Luxemburg. De kleuren zijn bekend sinds 1227, waar ze worden vermeld voor Hendrik IV van Limburg. De leeuw is sindsdien niet gewijzigd en werd door alle opvolgers voor Limburg gebruikt.
Image gallery
In 1288 komt na de slag van Woeringen de hertog van Brabant in bezit van Limburg. Brabant en Limburg worden sindsdien in een personele unie geregeerd. Het Limburgse wapen verschijnt ook in het wapen van de hertogen van Brabant. Dit wapen komt in veel Noord-Brabantse gemeentewapens terug (oa Veldhoven, Waalwijk, Oirschot en Stiphout).
In het provinciewapen komt tot uiting dat de huidige provincie uit historisch zeer verschillende gebieden bestaat.

English:
"Quarterly; I argent, a lion double queued gules, armed and crowned or; II or a lion rampant sable, armed and langued gules; III or, three buglehorns gules, vrioled of argent; IV azure, a lion rampant double-queued or, crowned of the same, langued gules; and an inescutcheon argent, a lion rampant double-queued gules, crowned and armed or. . The shield is crested by a duke's coronet three diadems or, lined gules, turned up with ermine. "
Limburg has a very complicated history. The present (Dutch) province of Limburg was only partly governed by the counts of Limburg. The main part of Limburg is the present day (Belgian) province of Limburg. The arms of Limburg are a red lion on a silver shield. The arms are known since 1208. In 1221 the lion got two tails as the then count was also count of Luxemburg. The arms haven't changed since. The provincial arms show the complicated history with the first quarter being the arms of Valkenburg (a county in the southern part of the province), the second Gulik (a county which owned part in the middle of the province), the third Horn (a county in the western part), and the fourth Gelderland (the northern part) and over all the original arms of Limburg.

Literatuur: De Vries, 1995