Noord Holland
Jump to navigation
Jump to search

NOORD HOLLAND
I: 23 mei 1907
" Gedeeld; I In goud een leeuw van keel, getongd en genageld van azuur (Holland); II in azuur, bezaaid met liggende gouden blokjes, twee gaande en aanziende leeuwen van hetzelfde, boven elkaar geplaatst (Westfriesland); het schild gedekt met een vijfbladige gouden kroon. "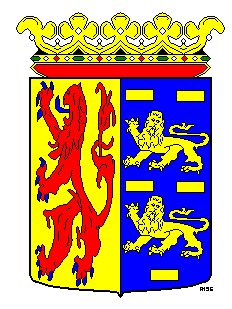 Oorsprong/verklaring
Het wapen is een combinatie van de wapens van Holland en West Friesland. Zie hiervoor onder Zuid Holland en Fryslân (Friesland).
De Hollandse graven hebben in de loop der eeuwen vele pogingen gedaan hun heerschappij over Friesland te vestigen. Alleen het huidige West Friesland wisten ze echter te onderwerpen. Het wapen van West Friesland was oorspronkelijk identiek aan het Friese wapen.
Na de afzwering van Filips II wilden de Staten van West Friesland eigenlijk een eigen provincie vormen. Als wapen werd hiervoor het Friese wapen aangepast, door de blokken van zilver te maken en het aantal tot vijf terug te brengen. In 1586 werden de leeuwen voor het eerst aanziend afgebeeld, iets dat sindsdien niet is gewijzigd. In de loop van de 18e eeuw werden de blokken tenslotte van goud.
De provincie Noord Holland voerde tot 1907 alleen het wapen van Holland. Pas in 1907 werden het Hollandse en West Friese wapen gecombineerd. In eerste instantie was de Hollandse leeuw omgewend, maar in het uiteindelijke besluit werd dat niet overgenomen. Het wapen was al op 20 november 1906 vastgesteld door de Provinciale Staten, maar het duurde nog een aantal maanden voordat het nieuwe wapen per KB kon worden vastgesteld.
De hele procedure over de wapenverlening is te vinden in het artikel van Wildeman, 1906.
English
"Per pale or and azure; I a lion rampant gules, armed and langued azure, II seme of horiontally placed billets or, two lions passant guardant in pale of the same. The shield is crested by a coronet of five leaves or. "
The arms of Noord-Holland are a combination of the arms of Holland and West Friesland. See Zuid Holland for the history of the arms of Holland and Frieslân (Friesland) for West Friesland. The arms of West Friesland differ from Friesland, in that the lions are different and the number of rectangles is reduced to five. The arms are used since the 16th century. The combination of Holland and West Friesland was only adapted this century.

Literatuur: Wildeman, 1906; De Vries, 1995