Turmac
Jump to navigation
Jump to search
Turmac - arms and flags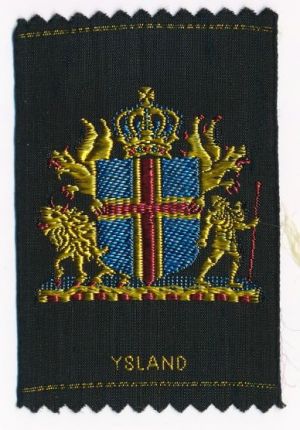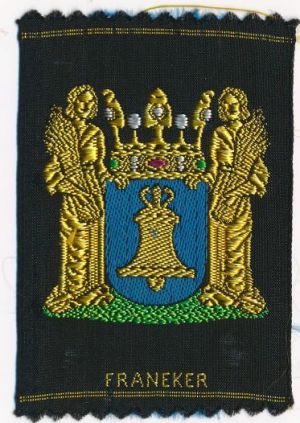 Company
These silks were issued by the Turmac cigarette company. Turmac was founded in 1920 in Zevenaar, the Netherlands as a specialist in TURkisch-MACedonian tobacco, hence the name. A few years later the company moved to Amsterdam. They stared to produce albums with paper trade cards in 1928, showing movie stars. In 1928 followed by an album with flags of countries participating in the Amsterdam Olympics.
In 1929 they started the production of silks for the album 'Alle landen vereenigd' (All countries united), showing 166 arms and flags of the countries of the world. These did not show the name of the country though. In 1933 a new enlarged album number 2 with 249 silks was issued, with the name of the country on the silk. In 1933 a third album 'Door steden en dorpen' (Through cities and villages) was issued with the arms of Dutch towns and villages, as well as some historical arms. This album was never finished, due to prohibition of tobacco advertising.
In the meantime the company also issued more albums with paper cards. None of these were heraldic. After the Second World War the company issued one more flag album under the Vaandrig brand, but no heraldry albums.
Advertising to buy the album:
Albums 1 and 2
Series name : Arms and flags of countries
Date of issue : 1929-1933
Number of cards  : 166+249
Variants : plenty, the silks were issued in a number of colours. The first album had black silks only, but later series include multiple colours. All these can be found mixed up in both the first album (no country names) and in the second album.
As far as I know there are no variations in the actual images. I know of a few misprints:
Silks issued
As there have been many different variations, the silks are listed here on country name, both arms and flag as well as colour variations. I have no idea whether all arms and/or flags have been issued in all combinations. The only Dutch catalogue on silks does not have a full overview either.
Afghanistan
Albania
Andorra
Argentina
Armenia
Australia
Austria
Belgium
Bolivia
Brasil
Bulgaria
Burma
Canada
(for all black flag silks there are light and dark green colour variants)
Chile
China
Colombia
Congo State
Costa Rica
Crete
Cuba
Czechoslovakia
Danzig
Denmark
Dominican Republic
Ecuador
Egypt
El Salvador
Estonia
Ethiopia (Abessinië)
Finland
France
Georgia
Germany
Greece
Guatemala
Haiti
Honduras
Hungary
Iceland
India
Iran (Perzië)
Ireland
Italy
Japan
Korea
Latvia
Liberia
Liechtenstein
Lithuania
Luxembourg
Memel
Mexico
Monaco
Morocco
(different variations in the red colour are known)
Netherlands
Also used in album 3
Newfoundland
New Zealand
Nicaragua
Norway
Panama
Paraguay
Peru
Poland
Portugal
Rhodesia
Romania
Russia
Samos
San Marino
South Africa
Spain
Sweden
Switzerland
Thailand (Siam)
Tunisia
Turkey
Ukraine
United Kingdom
Uruguay
USA
Vatican
Venezuela
Yugoslavia
Album 3
Series name : Door steden en dorpen (Through cities and villages)
Date of issue : 1933
Number of cards  : ? (album was never completed)
Image variants : ?
Silks issued
All silks are wide and black. No other colours or sizes are (yet) known to me).
The album also contained silks with portraits of famous Dutch people. These are not listed below.
---
Contact and Support
Partners:
Your logo here ?
Contact us
---
© since 1995, Heraldry of the World, Ralf Hartemink


Index of the site