Kawa Hag Herbarz Polski
Jump to navigation
Jump to search
Kawa Hag : Herbarz Polski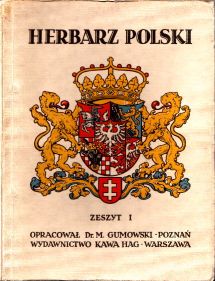 Album information :
Issued by : Kawa Hag, Warszawa
Date of issue : 1932
Number of stamps/cards : 284
Image variants : No different images, but 4 extra stamps with advertising
Company
For information on the company, see the overview of Coffee Hag albums.
Album
The album was issued in 1932 by Kawa Hag, Warszawa and its author was Dr. Marian Gumowski. Dr. Gumowski (1881-1974) was a historian from Torun, a well-known heraldicist. The front cover is drawn by Van der Laars, who also designed the Dutch and Belgian albums. Although he is mentioned as the designer of the Polish arms in a letter, the style of the Polish arms is rather different from the Dutch or Belgian ones.
The album is mentioned as part one (Zeszyt I). More issues were planned with personal arms, but never published. Part one contains 284 arms of towns, (historical) districts, dioceses etc. No personal arms were included, see index below for the list of towns and regions.
The arms were supplied in 8 sheets of 36 stamps each. Four of these stamps were used for advertising.
The back of the stamps contained no texts.
An album sheet: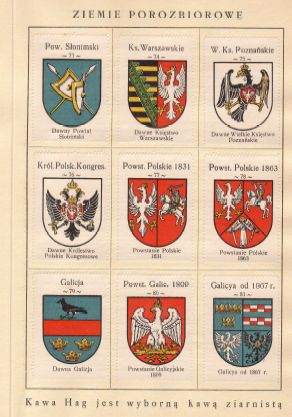 Contents
For all images see here
Alexandrów, Andrychów, Augustów, Bełchatów, Bełz, Biała, Białystok, Bielsko, Bielszowice, Bochnia, Borysław, Brańsk, Brok, Brzeziny, Brzozów, Bydgoszcz, Chodzież, Chorzele, Chorzów, Chrzanów, Ciechanów, Ciechanowiec, Cieszyn, Czechowice, Dąbrowa, Dąbrowa, Dębica, Dobromil, Drohobycz, Gniezno, Gorlice, Gostynin, Grajewo, Grodno, Grodzisk, Grojec, Hajduki Wielkie, Inowrocław, Jarocin, Jarosław, Jasło, Jaworów, Jaworzno, Kalisz, Katowice, Kępno, Kęty, Knyszyn, Kolno, Koło, Komarno, Konin, Konstantynów, Krakow, Królewska Huta, Krosno, Krotoszyn, Krynki, Kutno, Łagiewniki, Łagiewniki Małe, Łagiewniki Średnie, Łagiewniki Wielkie, Łańcut, Łęczyca, Leszno, Leżajsk, Łódź, Łomża, Łowicz, Lwów, Mielec, Mińsk Mazowiecki, Mława, Mogilno, Myślenice, Mysłowice, Nowy Sącz, Nowy Targ, Ostrołęka, Ostrów, Oświęcim, Ozorków, Pabjanice, Piotrków, Pleszew, Płock, Płonsk, Poznań (large arms, Poznań (small arms), Praga, Przasnysz, Przemyśl, Pułtusk, Raciąż, Radomsko, Radzymin, Rawa Mazowiecka, Rawa Ruska, Rawicz, Rogoźno, Rożan, Rozdzień, Rybnik, Rypin, Rzeszów, Sambor, Sanok, Siemianowice, Sieradz, Sierpc, Skierniewice, Sochaczew, Sokal, Sokółka, Suwałki, Świętochłowice, Szamotuły, Szopienice, Tarnów, Tomaszów Rawski, Trzebinia, Turek, Tykocin, Wągrowiec, Warszawa, Wielkie Piekary, Wieluń, Włocławek, Wołkowysk, Wreśnia, Wysokie Mazowieckie, Wyszków, Zakroczym, Zambrów, Zduńska Wola, Zgierz, Żołkiew, Żuromin, Żychlin,
Arcybiskupstwo Gnieźnieńskie, Arcybiskupstwo Krakowskie, Arcybiskupstwo Lwowskie Grec. Katol. , Arcybiskupstwo Lwowskie Rzym. Katol., Arcybiskupstwo Warszawskie, Arcybiskupstwo Wileńskie, Biskupstwo Chełmińskie, Biskupstwo Chełmskie, Biskupstwo Chełmskie Grec. Katol., Biskupstwo Częstochowskie, Biskupstwo Katowickie, Biskupstwo Kieleckie, Biskupstwo Kujawskie, Biskupstwo Łódzkie, Biskupstwo Łuckie, Biskupstwo Płockie, Biskupstwo Podlaskie, Biskupstwo Poleskie, Biskupstwo Poznańskie, Biskupstwo Przemyskie, Biskupstwo Sandomierskie, Biskupstwo Siedleckie, Biskupstwo Tarnowskie
Dzielnica Kujawy, Dzielnica Małopolska, Dzielnica Mazowsze, Dzielnica Śląsk, Dzielnica Wielkopolska, Galicja, Galicja od 1867, Gubernia Augustowska, Gubernia Grodzieńska, Gubernia Kaliska, Gubernia Kielecka, Gubernia Kowieńska, Gubernia Litewska, Gubernia Łomżyńska, Gubernia Lubelska I, Gubernia Lubelska II, Gubernia Mińska, Gubernia Piotrkowska, Gubernia Płocka, Gubernia Radomska, Gubernia Siedlecka, Gubernia Suwalska, Gubernia Warszawska, Gubernia Wileńska, Gubernia Wołyńska, Królestwo Polskie Kongresowe, Księstwo Bielskie , Księstwo Cieszyńskie, Księstwo Czerskie, Księstwo Głogowskie, Księstwo Gniewkowskie, Księstwo Oświęcimskie, Księstwo Pruskie, Księstwo Raciborskie, Księstwo Siewierskie, Księstwo Trockie, Księstwo Warszawskie, Księstwo Wieluńskie, Księstwo Zatorskie, Litwa, Obwód Białostocki
Powiat Bielski, Powiat Brodnicki, Powiat Dobromilski, Powiat Gniewski, Powiat Grozieński, Powiat Grudziądzki, Powiat Nieszawski, Powiat Prużański, Powiat Pucki, Powiat Słonimski, Powiat Sokólski, Powiat Tczewski, Powiat Tucholski, Powiat Wąbrzeski, Powiat Wołkowyski, Powiat Żydaczowski, Powstanie Galicyjskie 1809, Powstanie Polskie 1831, Powstanie Polskie 1863, Prow. Prusy Królewskie, Rzeczpospolita Krakowska, Wielkie Księstwo Poznańskie
Województwo Bełzkie, Województwo Brzesko-Kujawskie, Województwo Chełmińskie, Województwo Gnieznieńskie, Województwo Inowrocławskie, Województwo Kaliskie, Województwo Krakowskie, Województwo Łęczyckie, Województwo Lubelskie, Województwo Mazowieckie, Województwo Nowogrodzkie, Województwo Płockie, Województwo Podlaskie, Województwo Podolskie, Województwo Poleskie, Województwo Połockie, Województwo Pomorskie, Województwo Poznańskie, Województwo Rawskie, Województwo Ruskie, Województwo Sandomierskie, Województwo Sieradskie, Województwo Trockie, Województwo Wileńskie, Województwo Włodzimierskie, Województwo Wołyńskie
Ziemia Chełmińska, Ziemia Chełmska, Ziemia Dobrzyńska, Ziemia Halicka, Ziemia Helska, Ziemia Liwska, Ziemia Lubelska, Ziemia Przemyska, Ziemia Sądecka, Ziemia Sanocka, Ziemia Spiska, Ziemia Wieluńska