Colombia
Jump to navigation
Jump to search
Colombia - República de Colombia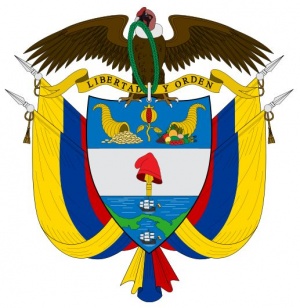 National symbols
Administrative division
Colombia is divided into 32 departments and one capital district, which is treated as a department. Departments are subdivided into municipalities, and municipalities are in turn subdivided into corregimientos in rural areas and into comunas in urban areas.
In addition to the capital four other cities have been designated districts (in effect special municipalities), on the basis of special distinguishing features. These are Barranquilla, Cartagena, Santa Marta and Buenaventura.
Heraldry
Most departments use arms, some use a logo. Also, most municipalities use arms.
Coats of arms of municipalities
Select by first letter :

Other heraldry
Heraldic collector's items