Latvia
Jump to navigation
Jump to search
Latvia - Latvijas Republika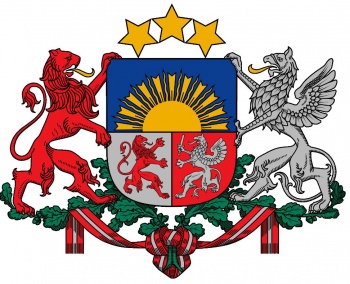 National symbols
Administrative division
Before July 1, 2009 Latvia was divided into 26 administrative districts (administratīvais rajons) and 7 cities under state jurisdiction (republikas pilsētas). The districts were further divided into towns and parishes.
Since 2009 the country is divided into 9 (Republican) cities (republikas pilsētas) and 110 municipalities (novadi). The parishes have been abolished as an administrative unit, but are still recognised.
Heraldry
The four historical region all have arms, even though they have no official status anymore. Half of the 26 former districts used arms and most of the towns, municipalities and parishes use(d) arms.
Historical regions:
Arms of administrative units:
Other heraldry:
Heraldic collector's items