Noord-Brabant
Jump to navigation
Jump to search

NOORD BRABANT
I: 15 juli 1920
" In sabel een leeuw van goud, getongd en genageld van keel. Het schild gedekt met de hertogelijke kroon van goud, gevoerd van keel, met hermelijnen omslagen. Schildhouders: twee gouden leeuwen, getongd van keel. "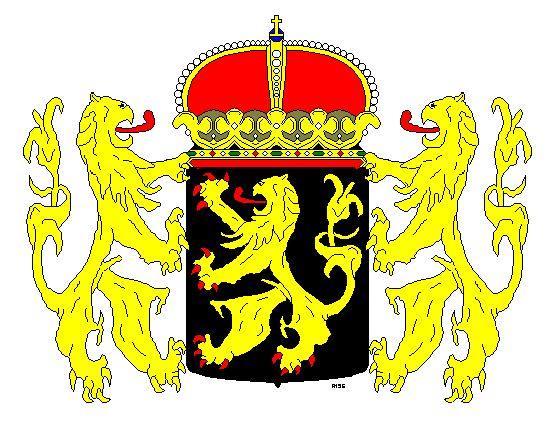 Oorsprong/verklaring
Het wapen is afgeleid van het wapen van het oude hertogdom Brabant evenals het wapen van België.
Brabant is ontstaan als een onderdeel van Neder-Lotharingen. De eerste die met Brabant werd beleend was Hendrik van Limburg in 1101. In 1106 werd hij echter opgevolgd door Godfried, graaf van Leuven. Het gebied werd in de loop der 12e eeuw verder uitgebreid en in 1188 nam Hendrik I van Leuven de titel Hertog van Brabant op in zijn titulatuur. De hertogstitel heeft sindsdien tot de Franse tijd bestaan.
Tegelijkertijd met de hertogstitel werd voor het eerst een leeuw op een wapen afgebeeld als symbool voor Brabant, en wel op een munt. Sindsdien is het wapen van Brabant een leeuw. De kleuren zijn bekend uit de 13e eeuw, namelijk een gouden leeuw op een zwart veld. In de 14e eeuw werden de klauwen en de tong gekleurd. Het wapen is sindsdien niet gewijzigd.
Hoewel de hertogen vaak diverse wapens voerden, bleef de leeuw altijd het wapen voor Brabant. De hertogen uit het Brabants-Limburgse huis voerden het wapen gevierendeeld met de Limburgse leeuw. Hiervan zijn in de gemeentewapens diverse voorbeelden te vinden, oa Veldhoven, Waalwijk, Oirschot en Stiphout. Ook het Duitse Kerpen voert de beide leeuwen in het wapen.
Andere hertogen, zoals Wenesclaus van Luxemburg voerde Brabant in het eerste kwartier, Luxemburg in het tweede en derde en Limburg in het vierde kwartier. Zijn opvolgers namen het familiewapen op in het eerste en vierde kwartier, Brabant in het tweede en Limburg in het derde kwartier.
Tijdens de Republiek namen de Staten van Brabant de leeuw over. Na de onafhankelijkheid in 1813 verkregen beide provincies, Noord- en Zuid-Brabant hetzelfde wapen. Na de afscheiding van Belgie werd Zuid Brabant gewoon Brabant, maar in het wapen kwam geen verandering.
Het wapen van Brabant is ook overgenomen als wapen van België.
Image gallery
English
"Sable, a lion rampant or, armed and langued gules. The shield is crested by a duke's coronet of five leaves and three diadems or, lined gules, turned up with ermine. Supporters: two lions rampant or, armed and langued gules. "
Brabant is an old Duchy. It is first mentioned in 1101. In 1106 Godfried of Leuven became count. His successors adapted the name and title Duke of Brabant and also adapted a lion as their arms. The colors of the arms are known since the middle of the 13th century. In the 14th century the nails and tongue became red. The arms haven't changed since then. The dukes from different dynasties quartered their ancestral arms with the lion. During the Dutch Republic the Staten of Brabant continued the lion as arms of Brabant. The arms are identical to the arms of Belgium, which are also derived from Brabant.

Literatuur: De Vries, 1995