Straits Settlements
Jump to navigation
Jump to search
STRAITS SETTLEMENTS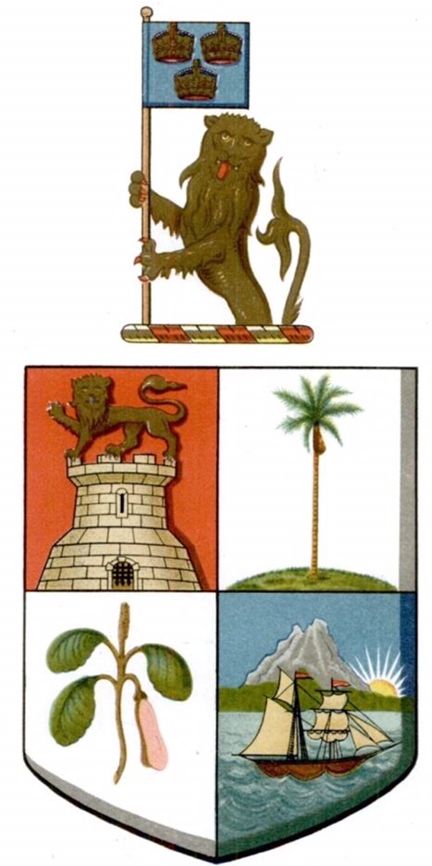 History
The Straits Settlements were a group of British territories located in Southeast Asia.
Originally established in 1826 as part of the territories controlled by the British East India Company, the Straits Settlements came under direct British control as a crown colony on 1 April 1867. The colony was dissolved in 1946 as part of the British reorganisation of its South-East Asian dependencies following the end of the Second World War.
The Straits Settlements consisted of the four individual settlements of Malacca, Dinding, Penang (also known as Prince of Wales Island), Singapore (with Christmas Island and the Cocos Islands). The island of Labuan, off the the coast of Borneo, was also incorporated into the colony with effect from 1 January 1907, becoming a separate settlement within it in 1912. With the exception of Singapore, Christmas Island, and the Cocos Islands, these territories now form part of Malaysia.
Official blason
Quarterly, 1st quarter Gules, issuant from the base a tower proper, on the battlements thereof a lion passant guardant Or; 2nd quarter, Argent, on a mount an Areca nut palm tree proper; 3rd quarter also Argent a sprig of the oil tree Kruing slipped proper; 4th quarter Azure, in base on waves of the sea in front of a representation of the sun rising behind a mountain a sailing yacht, in full sail to the sinister all proper.
Origin/Meaning
The arms show four quarters, representing Singapore, Penang (an Areca palm - Pinang or Betel nut palm), Malacca (a sprig of leaves and fruits of the keruing tree (Dipterocarpus sublamellatus), and Labuan (a depiction of a schooner headed towards Mount Kinabalu).

The arms as shown on a British cigarette card from 1906


The arms in a French publication (+/- 1890-1900)


The arms as shown on the Tanjong Pagar Station in Singapore (source)