Drenthe
Jump to navigation
Jump to search

DRENTHE
I: 19 augustus 1830
"Een schild van goud, beladen met een Mariabeeld, houdende het kind Jezus op de linkerknie en gekroond van goud, zittende in een Gothischen tempel mede van goud. Het schild gedekt met een hertogelijken kroon. "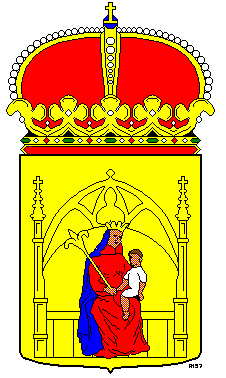 II : 19 augustus 1972
" In goud, zittend op een gouden kroon, Maria van natuurlijke kleur met een gouden kroon van drie lelies en gekleed in een gewaad van keel waaroverheen een mantel van azuur, houdende in de rechterhand een gouden scepter, uitlopend in een lelie en houdende op de linkerknie het zittende Kind Jezus van natuurlijke kleur, gekleed van zilver. Het schild gedekt met een van keel gevoerde gouden kroon van vijf bladeren, vier parels en drie diademen en gehouden door twee leeuwen van goud, getongd en genageld van keel. "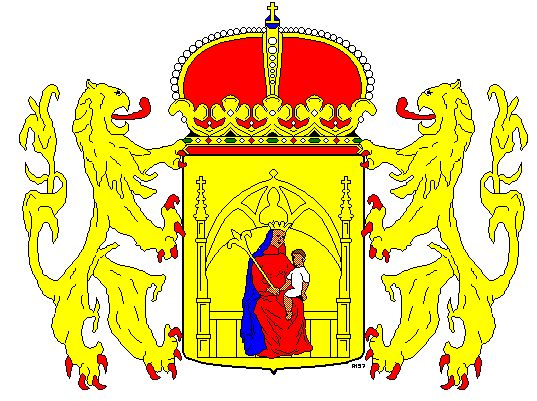 Oorsprong/verklaring
Drenthe was een landschap in het noorden van het land. Het behoorde grotendeels toe aan het Sticht Utrecht, maar in later tijden werd het een min of meer zelfstandige bestuurseenheid. Hoewel het landschap zich aan had gesloten bij de Unie van Utrecht heeft Drenthe nooit zitting gehad in de Staten-Generaal.
Het wapen is afgeleid van het zegel van het Landschap Drenthe. Een zegel van dit landschap is bekend sinds 1262, maar de oudste volledige afdruk dateert uit 1294. Het zegel vertoont de H.Maria op een troon, met op haar schoot Jezus en ter weerszijde van de kroon twee engelenkoppen. Op het tweede zegel, dat in gebruik is geweest van 1395-1795 stond dezelfde voorstelling, alleen waren de engelenkoppen verdwenen.
Op een uit 1715 daterend zegel staan aan beide kanten van de troon een leeuw en is de troon gedekt met een hertogelijke kroon. De troon staat overigens niet op een wapenschild.
De eerste keer dat de voorstelling op een wapenschild voorkomt dateert uit 1730 op een vignet van de kerkenorde van het landschap Drenthe.
In 1830 werd de kroon wel, maar de schildhouders niet verleend. Vandaar dat de omschrijving later is aangepast.
Afbeeldingen
English
"Or, seated on a throne of the same , the Virgin Mary in a mantle azure over a robe gules, wearing a crown composed of three fleur-de-lis or; in the right hand a sceptre or with a fleur-de-lis finial, on the left knee the Christ-child in a robe argent. The shield crested by a coronet of four pearls between five leaves and three diadems or, lined gules. Supporters: two lions rampant or, armed and langued gules."
Drenthe is a province in the north of the Netherlands. It used to be part of the bishopric of Utrecht, but became more and more independant. It has not been a separate county or duchy as most of the other Dutch provinces, but it retained the status of "landschap" (a kind of self-governing area). Drenthe joined the Utrecht Union (see Utrecht), but as a landschap did not have voting rights in the republican parliament (Staten-Generaal). It became a province in 1805. The arms of the province of Drenthe are derived from the seal of the Landschap Drenthe, which depicted the same composition since 1262.

Literatuur: De Vries, 1995
---
Portaal Nederlandse Overheidswapens
---
Contact and Support
Partners:
Your logo here ?
Contact us
---
© since 1995, Heraldry of the World, Ralf Hartemink


Index of the site