Willem II
Jump to navigation
Jump to search
Willem II cigar bands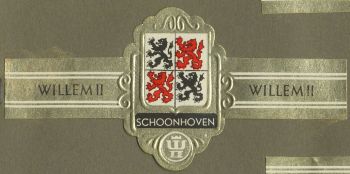 Company info
The William II cigar factory was founded in 1916 by Harry Kersten in Valkenswaard, the Netherlands. The company expanded and had 4 additional factories in the 1970s. In 1977 it became part of the Consolidated Cigar Company and through a number of sales it became part of Scandinavian Tobacco Group in 2011. The production is now located in Houthalen, Belgium.
The company has produced number of cigar bands, including one with a heraldic theme, see below, issued in 1964. This series consists of 225 small bonds with Dutch, Belgian and European arms. The company numbered the bonds in different (non related) series sequentially, the numbers for the heraldry series thus are 1875-2100.
In total 11 bonds have been re-issued with corrected or new arms. Whenever I have a variation, it will be listed in the overview below.
Bond issued